SOUTHEAST SNAPSHOT, DECEMBER 2004
Baltimore Retail Market
Thomas L. Fidler, Jr.
Senior Vice President/Principal
MacKenzie/Cushman & Wakefield

The Baltimore County retail trade area encompasses approximately 13.2 million square feet of leasable space. This is comprised of retail projects from freestanding retail facilities and/or strip centers to big box or power center projects in and around the Baltimore beltway. With a dwindling inventory of properly zoned commercial properties, growing intensity for use restrictions, and enhanced county zoning requirements, the Baltimore trade area continues to be a hot spot for redevelopment. The maturity of existing commercial properties has met with new opportunities for developers to reposition these parcels and/or projects and capitalize on the upward trends in both absorption and lease rates. Such projects would include the redevelopment of:

• Golden Ring Mall into the The Centre at Golden Ring, anchored by The Home Depot, Wal-Mart, Sam's Club, Office Depot, Petco, Bennigan's and Dairy Queen Grill & Chill.

• Hunt Valley Mall into Hunt Valley Towne Centre, anchored by Sears, Wal-Mart, Wegmans Food Market and Regal Cinemas.

• Baltimore's Fish Market into Power Plant Live, anchored by Have A Nice Day Café, McFadden's, Blue Sea Grill and Ruth's Chris Steakhouse.

This trend will continue in the foreseeable future with both local and regional developers actively participating in Baltimore's retail trade market. Most significant is the current upward trend of lease rates in several of Baltimore's key market areas. For example, the York Road corridor in northern Baltimore County has seen substantial growth in the last 12 months from an average lease rate for in-line retail space of $23 per square foot to current projects, such as Hunt Valley Towne Centre, yielding near $40 per square foot. The same is true along the Bel Air Road corridor throughout Perry Hall and White Marsh. The recent opening of Honeygo Village Center has positioned that area for a substantial increase in average lease rates. We continue to see a growing demand for retail properties from the quick-serve restaurant industry, casual dining industry and sports entertainment component of the retail business. Baltimore continues to be a hot bed for restaurant and food operators both on a national and franchise capacity.

Several projects that have been or are in the process of being completed in and around the Baltimore area that will have a substantial impact on the long-term viability of the surrounding market as well as the lease rate or lease value include:

• Hunt Valley Towne Centre. This project is encompassing the redevelopment of a former enclosed mall into a "main street" lifestyle center.

• The Centre at Golden Ring. This project included removing an existing two-level enclosed mall and creating big box space and a shopping center encompassing both inline space as well as outparcel restaurant sites.

• Owings Mills New Town Center. This project continues to be in the early development stages to encompass a mixed-use development of approximately 400,000 square feet.

The majority of retail development continues to occur in the outlying areas of Baltimore County, specifically the northern end of York Road, the northern end of Bel Air Road into the White Marsh area, and Owings Mills New Town Center at Owings Mills Boulevard and Interstate 795, by way of example. However, there continues to be a very strong increase in demand for redevelopment of aging or underutilized retail properties along the main corridors throughout Baltimore County. Given the reasons for lack of any new properties to be zoned in the upcoming years, as well as continuing constraints by Baltimore County Authorities on commercial properties, these locations will continue to be attractive to both retailers and developers for the foreseeable future. The Baltimore County market shows very low signs for any new properties to be rezoned commercial and/or retail.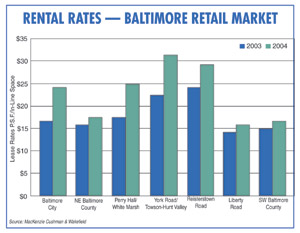 There are two particular areas in particular that will be very prominent in future development in the upcoming years. They are:
• "Baltimore Crossroads" at Interstate 95. This geographic area is a continuation of the White Marsh area via the extension of MD Route 43. The total land area encompasses 1,000 acres and will consist of approximately 5.5 million square feet of space including 2.5 million square feet of R&D flex office space, 2.5 million square feet of manufacturing/industrial space and approximately 500,000 square feet of retail product. Given the substantial residential growth and its proximity to major arterial roadways in northeast Baltimore, this particular area will be of notable interest and demand in the years to come. It is enhanced by the lack of readily available and properly zoned commercial properties in and around the adjoining markets.
• Baltimore City. Baltimore City is currently undergoing a major renaissance with residential and retail developments. There is approximately 300,000 square feet of current retail projects on the playing books and this will continue to grow with the expansion of Inner Harbor East and the potential retail development of Canton Crossing. With a growing residential base and a very successful daytime population, Baltimore City will continue to thrive as a viable opportunity for new retail markets. Currently Baltimore City has an employment base of 88,000 people, of which 40 percent are city residents. There are approximately 13,000 students in the immediate vicinity of downtown Baltimore, 15 million tourists a year spending approximately $3 billion annually, 5,600 hotel rooms averaging 75 percent occupancy or better as well as an additional 1,300 hotel rooms expected to be completed within 3 years. A current retail vacancy among the 2 million square feet of retail space in Baltimore City of 6.3 percent will continue to stabilize with a positive absorption each year for the years to come.
The retail characteristics of Baltimore County's various trade areas and/or markets vary greatly according to location, age, size, tenant mix and convenience or accessibility. We continue to see an upward trend in rents in the high demographic areas including, the York Road corridor, northern Baltimore County and White Marsh. With the continued residential development in the Owings Mills area, this trade area will see an increase in available retail space as well as rental rates and will become a thriving opportunity for various retailers. Occupancy rates will continue to be the strongest in these core market areas. With new development and general economic factors, southeast Baltimore County and the western edges of the Baltimore Beltway (i.e., Liberty Road) will continue to see modest increases in both rental and occupancy rates. These markets will continue to maintain stability until such time as Baltimore County Government enacts proposed or potential legislation for economic development, new road networks and/or public facilities.
In general, Baltimore County continues to be an extremely mature market with the majority of the positive growth occurring in the White Marsh area and Owings Mills. Residential neighborhoods continue to expand along with general commercial development for office and commerce space, which fuels the demand for retail services. Future retail developments will pivot on retailer mix, public amenities, accessibility and convenience to core residential areas.
— Thomas Fidler Jr., senior vice president/principal, MacKenzie/Cushman & Wakefield
Statistics and /or data were provided by Lipman Frizzell & Mitchell LLC. and the Downtown Partnership of Baltimore, Inc. in preparing the contents of this article.


©2004 France Publications, Inc. Duplication or reproduction of this article not permitted without authorization from France Publications, Inc. For information on reprints of this article contact Barbara Sherer at (630) 554-6054.