COVER STORY, FEBRUARY 2006
RETAIL RECONSTRUCTION
Following Hurricane Katrina, retail development in the Gulf South looks to rebuild and rebound in 2006.
Katie Foxworth
This year, some residents of the Gulf States will be looking to rebuild their homes, repair their infrastructure and restore their lives — all following the devastation wrought by Hurricane Katrina in late August 2005. And, possessing the same heart and resiliency of Gulf South residents, the developers and retailers who have called the region home for so many years will also rebuild. Many have already done so — reopening their doors, in some cases, just a few weeks after one of the most horrific natural disasters to befall the U.S. Others have taken their time, taken a step back, and now see an opportunity for new vision, for new ground-up developments that will coax back hurricane-weary consumers and commerce. The Gulf South will rise again — and retail developers are already doing their part.
To get an inside look at the Gulf States of Alabama, Mississippi and Louisiana, Southeast Real Estate Business recently talked to 10 real estate companies and economic development organizations in the region. Here is an overview of their new projects, as well as their thoughts on the physical, mental and economic state of a storm-ravaged region.
O&S Holdings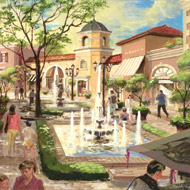 O&S Holdings is underway on a $210 million project in Huntsville, Alabama, called Bridge Street Town Centre, which will open in spring 2007.

Los Angeles-based O&S Holdings, LLC has become a major player in retail and mixed-use development in the Gulf States. Currently, the company is developing a $210 million project in Huntsville, Alabama. Called Bridge Street Town Centre, the 2 million-square-foot project broke ground on June 1, 2005. Once completed in spring 2007, it will include 500,000 square feet of retail stores, restaurants, entertainment venues, office space, hotels and residences in Huntsville's Cummings Research Park, the second largest research park in the United States. Alabama Gov. Bob Riley calls Bridge Street Town Centre "almost like an oasis in the state of Alabama."

The development will be anchored by a 16-screen Regal Cinemas and the state's first four-star Westin Hotels & Residences, which will include 200 hotel rooms and 45 luxury condominiums on the top five floors of the 11-story building. Both Regal Cinemas and the Westin Hotel are part of Phase I, which also includes office buildings, retail stores, a performing arts center and two man-made lakes. Phase I is expected to open at the end of this year.

"Huntsville may be one of the most underserved, affluent markets in the United States," notes Gary Safady, a managing partner with O&S Holdings. At least 20 of the prospective retail tenants at the center, Safady adds, will be national tenants who are new to the market.

"Huntsville has been named the sixth best place to do business in the U.S. by Forbes magazine, and it has the fourth highest average salary in the Southeast," says Rachel Forman, director of corporate marketing for O&S Holdings. "It has expansive feeder markets with Madison and Decatur within 20 miles and Birmingham within 100 miles."

Another Gulf South city to watch, Forman says, is Lafayette, Louisiana. "Lafayette's location in central Louisiana has the resources to grow at a rapid rate," she says. "Its government is proactive, and it has a comprehensive urban plan for growth."

Farther north, in Bossier City, Louisiana, O&S Holdings has brought several new tenants to Louisiana Boardwalk, a 550,000-square-foot retail outlet development that opened in May 2005. The project, which is now 90 percent leased, is anchored by Bass Pro Shops Outdoor World and a 14-screen Regal Cinemas theater. New tenants to join the center include Gap, Chico's, White House|Black Market, Eddie Bauer and Claire's. Build-A-Bear Workshop is currently under construction. In total, the new stores occupy more than 30,000 square feet of retail space. O&S Holdings has also signed leases with Nike and Banana Republic outlet stores. The Nike Factory Store — the first Nike store in the state of Louisiana — will open its 15,400-square-foot building in April. The Banana Republic Factory Store is scheduled to follow in June.

"We anticipate our retail component being 100 percent leased by the end of first quarter," says Safady. "The retail community certainly recognizes the potential of the area."

Jim Wilson & Associates, Inc.

Montgomery, Alabama-based Jim Wilson & Associates (JWA) has three significant projects going on in the Gulf States. In Birmingham, Alabama, the company is busy expanding Riverchase Galleria, a 2.4 million-square-foot mixed-use center that is anchored by Macy's, Parisian, Sears, JC Penney, Proffitt's and Costco. New tenants have also been added to the Riverchase lineup, including many that are new to the market.

"Alabama's first Swarovski and Sephora stores opened at Riverchase Galleria, and California Pizza Kitchen is opening their second location in the state, but a new prototype," says Kay Yarbrough, director of marketing and public relations with Jim Wilson & Associates. She adds that Forever 21 also entered the Birmingham market at Riverchase with a 16,000-square-foot store, and Aerie (the new concept from American Eagle) will enter the Alabama market at Riverchase Galleria later this year.

In Montgomery, Alabama, JWA is developing a new 500,000-square-foot power center that will open this year. To be located at EastChase, this development follows the company's recent sale of The Shoppes at EastChase and The Plaza at EastChase to NP/I&G Institutional Retail Company, a joint venture between New Plan Excel Realty Trust and JPMorgan Fleming Asset Management. JWA and partner Alfa Insurance Companies originally developed EastChase, a 330-acre master-planned development adjacent to Interstate 85 between Taylor Road and Chantilly Parkway in East Montgomery. JWA and Alfa still own approximately 170 acres in the EastChase development, which will be converted into retail, office and multifamily use.

In hurricane-torn Biloxi, Mississippi, JWA continues to lease and make repairs to Edgewater Mall, which reopened for business just 10 weeks after Hurricane Katrina in this past November. The 900,000-square-foot mall is anchored by Dillard's, JC Penney, McRae's and Sears.

"Edgewater Mall took a direct hit from Katrina, yet despite the severe damage, the mall reopened 10 weeks after the storm," says Yarbrough. "The majority of retailers have returned or are making plans to return. They are extending the terms of their lease — recommitting for additional terms and building new stores and new prototypes. The commitment to rebuild is there."

The goal, ultimately, is just that: to persuade retailers and customers to come back to these ravaged coastal areas. "The rebuilding of the Gulf States will be a priority and something to watch," Yarbrough predicts. "Gulf and beach-located property will still be hot for retail, but the question will be how many and in what timeframe will the population return."

Stirling Properties

With its regional focus on the Gulf South, New Orleans-based Stirling Properties knows the after-effects of Hurricane Katrina all too well. "Demographic shifts are dictating where stores are moving," says Lewis W. Stirling III, executive vice president of Stirling Properties. "Stores are moving where repopulation is occurring."

Before the hurricane, there were some retailers, such as Kohl's, who were in the process of locating in the region for the first time. Today, Stirling says, those same retailers are now pushing for a faster entry into the market.

"Companies with one store in the area are adding stores in areas where the demographic shifts are occurring — Baton Rouge, suburbs of Baton Rouge, North Shore and Hammond," notes Stirling. "Tenants that have shut down may not reopen; right now they are trying to decide whether to stay or relocate."

Recently, Stirling Properties has helped Target locate new stores in the Louisiana towns of Lafayette and Bossier City and, in Baton Rouge, Stirling recently developed Target Millerville, a 306,000-square-foot center anchored by Super Target. The developer has also opened Walgreens stores in Covington, Rayne and Ponchatoula, Louisiana.

CBC McLain Real Estate

"Hurricane Katrina continues to vex redevelopment with all sorts of issues including some as basic as securing good title, finding corner pins for surveys, and other results of the severe damage," says D. Scott McLain, managing broker with Huntsville, Alabama-based Coldwell Banker Commercial McLain Real Estate. "It will likely be several years before the devastation is resolved and there is demand for more than a basic restoration of shopping opportunities."

According to McLain, his company is currently busy with a major redevelopment of Marketsquare Mall. Planned is a demolition of the old 250,000-square-foot enclosed mall and its subsequent conversion into a 400,000-square-foot mixed-use center, with emphasis on entertainment. Located on Huntsville's last greyfield property, the site is also one of the city's last major central-city retail opportunities. Demolition is expected to begin this year.

"The site will give downtown Huntsville significant presence on Memorial Parkway, the principal traffic artery," says McLain.

Downtown is likely to need the new retail. According to McLain, Huntsville is set to gain perhaps 10,000 new jobs over the next few years, based on the BRAC (Base Reduction and Closure Act) process. "This dramatic increase in employment with its associated increase in population will stress the infrastructure of this North Alabama town, but it will bring myriad opportunities," McLain says. "Redstone Arsenal is a significant contributor to the economy of Huntsville and its prosperity will create great demand for residential, retail and other development."

McClinton & Company

Montgomery, Alabama-based McClinton & Company, Inc. provides real estate development, management and brokerage services throughout the Southeast. Some of its most recent projects include the development, construction, leasing and management of the Festival Plaza Shopping Center in Montgomery, which features the nation's first Rave Motion Pictures 16-screen theater; the 136,000-square-foot Decatur Commons Shopping Center in Decatur, Alabama, which includes Decatur's first Publix Supermarket; Montgomery Commons, a 300,000-square-foot center anchored by Wal-Mart; and a new 35,000-square-foot expansion of Premiere Place Shopping Center, which is anchored by Wal-Mart, Belk, Michaels and Goody's.

The aforementioned Festival Plaza, which first opened in 2000, is currently undergoing an expansion from 195,000 square feet to 255,000 square feet, and a new anchor will be announced this spring. Existing Phase I tenants include Atlanta Bread Company, Mellow Mushroom, Marble Slab Creamery, TLR Outdoors and Cingular Wireless. Phase II, which opened in spring 2003, includes 30,000 square feet of space occupied by Mickleboro's Jewelry, Ooh La La, Leon Loard Oil Portraits, Gazebo, Itemz, Nail Studio and Paper Moon. The most recent tenants to join the center include Shall We Paint? A Pottery Playhouse and Buffalo Wild Wings (Montgomery's first). In spring 2007, a 50,000-square-foot office tower will join the project.

Also in Montgomery, the hometown developers are busy with Midtown Plaza, a new 325,000-square-foot retail development under construction and opening this year. Located at the corner of Ann Street and Highland Avenue, Midtown Plaza is anchored by Wal-Mart Supercenter, Ross Dress For Less, Office Depot and Dollar Tree. The 200,000-square-foot Wal-Mart Supercenter will be the first in Alabama to be built using the retailer's new "Store of the Community" design, which incorporates local architecture and landscaping features from older neighborhoods in the city.

"Overall trends seem to follow the areas with influx in new job growth for new development," says David McClinton, senior vice president of development and brokerage with McClinton & Company. "Montgomery is hot lately."

Montgomery will also usher in the 2007 opening of Chantilly Station, a 350,000-square-foot center currently under development, anchored by Wal-Mart Supercenter and Lowe's Home Improvement.

In Prattville, McClinton and joint venture partner AIG Baker are underway on High Point Town Center, a Bass Pro Shops-anchored center that will span 850,000 to 1 million square feet once complete. "Bass Pro Shops is the most recent retailer announcement to our region," McClinton points out. Two additional department store anchors will be announced this spring.

Elsewhere in Alabama, the company has several significant projects in the works. In Millbrook, McClinton is developing the 235,000-square-foot Hillcrest Center, a Wal-Mart-anchored center scheduled to open in 2007. In Huntsville, the company is developing Valley Bend at Jones Farm, a 92,000-square-foot center anchored by Rave Motion Pictures. It is currently under construction and scheduled to open this year.

Alabaster Industrial Development Board

In the Birmingham suburb of Alabaster, Alabama, significant retail development is underway as overall growth spreads southward beyond the Birmingham city limits. One of the most significant projects is Colonial Promenade, a 1.1 million-square-foot retail center located at Interstate 65 and State Highway 31 in Alabaster. The center, which opened in this past October, is a development of Birmingham-based Colonial Properties Trust. Anchors include Wal-Mart, Lowe's Home Improvement, JC Penney, Best Buy, T.J. Maxx and Belk.

"Alabaster has now established its own market with Colonial Promenade," says Cam Ward, executive director of the Alabaster Industrial Development Board.

Next up for Colonial Properties is its development of Colonial Promenade South, also in Alabaster. The company broke ground on the project last month.

"The largest developer in the city for retail purposes right now is Colonial Properties," Ward says.

Yet demographics are the factor really controlling the market. "Our median income has risen by nearly 50 percent over the last 10 years alone. Also, the population and housing market continue to grow at an unbelievable rate. In 1990, only 14,000 people lived in Alabaster; today, the city has over 26,000 residents."

"With the growth out of Birmingham continuing to push into the Alabaster area," Ward continues, "this will make Shelby County more and more attractive for retail development due to the large number of new rooftops."

Colonial Properties Trust

As mentioned, Birmingham-based Colonial Properties Trust is actively developing in Alabaster and the greater Birmingham area. Its Colonial Promenade Alabaster II development is currently underway on 111.2 acres. The 300,000-square-foot power center is anchored by Ross Dress For Less, Bed Bath & Beyond, Old Navy and Books-A-Million.

In east Birmingham, the company is developing Colonial Pinnacle at Tutwiler Farm, a 300,000-square-foot lifestyle center anchored by Super Target, Belk, T.J. Maxx, Bed Bath & Beyond, Academy Sports & Outdoors and The Home Depot. The new development is located on 78.2 acres near the intersection of Interstates 59 and 459.

In Gulf Shores, Alabama, Colonial Properties is developing Colonial Pinnacle at Craft Farms, a 417,700-square-foot center featuring retail, dining and entertainment components.

While Colonial Properties' developments experienced little damage overall from Hurricane Katrina, one center in Mobile, Alabama — Colonial Mall Bel-Air — was hit but it was able to reopen a couple days after the storm.

Saad & Vallas Realty Group

Mobile, Alabama-based Saad & Vallas Realty Group, LLC has several new projects either recently opened or underway in Alabama.

Spanish Fort Plaza is a 31,240-square-foot community retail center that should be fully open by next month in Spanish Fort, Alabama. Tenants, which began moving in last June, include Aaron's Rents, a post office, a hair salon, a drycleaners and a dentist.

In Mobile, Alabama, the company is underway on three area projects. One is The Shoppes of Midtown, a 42,676-square-foot center whose last two tenants will open this May. Major tenants include Office Depot, Dollar Tree, Tijuana Flats, Cingular Wireless and Sally Beauty Supply. Also in Mobile, Saad & Vallas is working on Ashland Station, an 18,610-square-foot center scheduled to open in May. Tenants include Namans Midtown Market, Crown Colony Antiques and Initial Impressions. Nearby, in Semmes, Alpha Village is scheduled to open next month. Tenants there include Rhino Video, Cingular Wireless and Advanced America.

"In the Mobile market, you are seeing more renovating of existing buildings," notes Christie Amezquita, senior leasing agent with Saad & Vallas. "Retailers want to get into the city, so developers are redeveloping older buildings or tearing down for new development."

Amezquita adds that a number of new restaurants are also entering the Mobile market. Examples include Raising Canes, Macaroni Grill, Tijuana Flats, Milo's, Zaxby's and Backyard Burger.

Which Alabama towns are on developers' radar screens? "Baldwin County," says Amezquita. "This area is increasingly growing and is still somewhat of a sleeper market. I also foresee Robertsdale, Foley and Gulf Shores [Alabama] retail taking off in the next couple of years."

In fact, Saad Development Corporation is now developing Palmer Place, a new community with lots listed by Saad & Vallas Realty Group. The unique residential community is located minutes from Gulf Shores beaches and Foley shopping, as well as downtown Mobile and Pensacola Florida.

The Mitchell Company

Also based in Mobile, Alabama, is The Mitchell Company, a commercial real estate development and brokerage firm whose shopping center portfolio exceeds 12.8 million square feet.

The company's most significant recent venture is Legacy Village at Spring Hill, a new development in Mobile's affluent Spring Hill neighborhood. Area residents (within a 3-mile radius of the site) spend an average of $650 million in retail sales per year — and that's without a nearby shopping destination like Legacy Village at Spring Hill. The 9-acre project, which will be able to accommodate up to 450 parked cars, will feature vintage-style buildings, balconies overlooking courtyards, planters, benches and fountains — all designed to evoke the graceful elegance of this historic Southern city.

MEETING THE SHOPPING NEED IN SHREVEPORT, LOUISIANA
Phase I of Shoppes at Bellemead has opened in Shreveport, Louisiana.

In the months following Hurricanes Katrina and Rita, Shreveport is welcoming new shopping centers to its market. Shoppes at Bellemead and Pine Roads Marketplace will meet two different kind of shopping needs.

"We are the only concentration of this kind of retail in a very large trade area," says Alvin Childs of Shreveport-based Vintage Realty Company, which is co-developing Shoppes at Bellemead with Rand Falbaum.

The center's first phase is already complete. This 60,000-square-foot portion includes tenants Chico's, White House|Black Market, Ann Taylor Loft, Jos. A. Bank, Fairfield Grocery, Merle Norman, De Bruhl Collection, Coldwater Creek, Bath Junkie and Francesca's. Phase II construction, which is set to begin this year, will add 33,634 square feet to the center. The national retailers now open are all new-to-market. Talbots, which is not new-to-market, will open this summer.

In addition to Shoppes at Bellemead, Shreveport will welcome another new shopping center this year. Anchored by Dollar Tree and Starbucks Coffee, Pine Roads Marketplace is expected to open in June. Mobile, Alabama-based Saad & Vallas Realty Group is developing the 21,000-square-foot shopping center.

— Leah Sanders



©2006 France Publications, Inc. Duplication or reproduction of this article not permitted without authorization from France Publications, Inc. For information on reprints of this article contact Barbara Sherer at (630) 554-6054.