CITY HIGHLIGHT, FEBRUARY 2010
NASHVILLE CITY HIGHLIGHTS
Patrick Brakefield and Bruce Reed
Nashville Industrial Market
As 2010 begins, there is an oversupply of bulk distribution space (250,000 square feet and more) in the greater Nashville area. Available space ranges from 40,000 square feet to 150,000 square feet in either warehouse/office flex space or pure warehouse distribution facilities. As of year-end 2009, the market vacancy rate is estimated to be just more than 9 percent — generally the same as it was throughout 2009. Interestingly, it appears that activity has picked up and that the pace of bulk transactions has increased. Of the ten largest bulk leases last year, seven were completed in the second half of 2009, and the seven leases absorbed 80 percent of the available space.
Significant lease-rate reductions occurred in 2009. Asking rates for bulk space continue to hover in the $3.05 to $3.35 net range, but many landlords are reporting that significant concessions (10 percent to 20 percent) have been negotiated. The rental rates for warehouses are also favorable from the tenant's perspective, with decreases in the asking rates from 2008 to 2009 in the 25 percent to 35 percent range.
A significant future development project by Nacarato Partners has begun in the LaVergne market area. Blasting and mass grading on the 92-acre site is more than 85 percent complete. Based on the most recent site plan, the Nacarato project will accommodate a total of about 1.5 million square feet of bulk industrial space in buildings constructed by users that buy sites within the development.
Near the county lines along the middle of the State Route 840 corridor, where some of the speculative development of 2006 to 2008 occurred, three Class A bulk distribution facilities remain vacant. Opus, Verus and IDI are each offering 400,000-plus-square-foot buildings with asking rents from $3.05 to $3.45 net. East of Nashville, Panattoni's Beckwith Farms development continues to take shape, with three of the projected eight buildings already built.
Industrial real estate sales in 2009 were few and far between, and there were almost no investment transactions at all. In 2006, 861 commercial sales transactions in Davidson County were completed, and there were fewer than 150 closed commercial sales in 2009. The dearth of sales activity is clearly demonstrated by those numbers.
The conventional wisdom in the brokerage community is that activity is picking up in 2010, yet it is challenging to produce statistics on completed transactions to support that notion. However, due to business relocations initiated because of the new Nashville Convention Center and with the construction of the massive Hemlock project north of Nashville, market activity is increasing. Generally speaking, most in the business community believe that 2010 will be a year in which businesses can operate reasonably well. This optimism will help increase property values, lease rates and transaction velocity.
— Patrick Brakefield is a senior vice president at Chas. Hawkins Co./CORFAC International in Nashville.
Nashville Office Market
Nashville's office vacancy increased to 10.7 percent at the end of 2009, up slightly from the 10.5 percent vacancy at the end of the third quarter. Despite the fact that the economy has slowed corporate growth in Nashville — though much less than in most U.S. markets — there was positive net absorption of 286,701 square feet in the fourth quarter. This amount of absorption was by far the most of any of the quarters in 2009 and was closer to the amount of quarterly absorption Nashville is used to seeing in recent years. There's been relatively little absorption in Nashville, a trend caused primarily by the limited amount of speculative office construction the area has seen during this period. This factor has kept vacancies at a relatively healthy level, which should mean that a new wave of speculative construction is imminent once the capital markets thaw and the economy continues to improve.
Only a total of six office buildings were added to the Nashville market during the fourth quarter. These new constructions totaled 553,904 square feet, almost all of which was the delivery of the new Pinnacle at Symphony Place Tower. Barry Real Estate of Atlanta developed the 500,431-square-foot building. The anchor tenants are Bass Berry & Sims, a law firm that leased 139,805 square feet, and Pinnacle Bank, which leases 63,114 square feet. The most significant lease in 2009 was the 91,253-square-foot lease by Simplex with Highwoods Properties at its Cool Springs III development. The building is one of the few substantial properties developed here recently on a speculative basis. There are currently only 654,568 square feet of office space under construction in the market, almost all of which is pre-leased.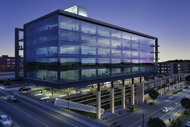 Market Street Enterprises' five-story building at Demonbreun Street in Nashville.
One of the more significant developments in 2009 is the construction start of three phases of the Seven Springs Development in Brentwood, a southern suburb of Nashville. Highwoods Properties is actively marketing an additional 550,000 square feet of office space to be built in three buildings, along with a 50,000-square-foot retail component, according to Brian Reames, head of Nashville's Highwoods office. Market Street Enterprises, a local developer, is marketing a prospective 170,000-square-foot, five-story building that would include 20,000 square feet of retail space. This development, which will be LEED-certified, would sit at the corner of 11th Avenue South and Demonbreun Street on the western edge of downtown. This area, which is called The Gulch, is the first LEED-certified neighborhood in the Southern United States
— Bruce Reed is a senior vice president at Chas. Hawkins Co./CORFAC International in Nashville.


©2010 France Publications, Inc. Duplication or reproduction of this article not permitted without authorization from France Publications, Inc. For information on reprints of this article contact Barbara Sherer at (630) 554-6054.