NASHVILLE EMBARKS ON ROAD TO RECOVERY


Ben Blakeley

For the second consecutive quarter, the Nashville, Tennessee, office market experienced modest occupancy growth as roughly 240,000 square feet of net absorption was posted for the third quarter of 2002. A slight pick-up in leasing activity caused the overall vacancy rate to decline to 15.8 percent — down from 16.8 percent at mid-year. While occupancy growth in any form during turbulent times is good news, it is by no means indicative of a market that is stabilizing and in store for an imminent recovery. Recent indicators on both the local and national level reveal that market conditions may take longer to improve than previously expected.

Over the last few months, however, a few other bright spots have emerged. At the beginning of 2001, the first of several waves of sublease office space flooded the local market. During the first three quarters of 2002, sublease inventories declined by nearly 10 percent, which bodes well for the Nashville market. Much of the recent occupancy growth has been due in large part to tenants taking advantage of the below-market offerings of sublease space and increased competition among landlords. A limited pool of lease prospects has prompted building owners to become more aggressive in structuring deals by offering generous build-out allowances, free rent and moving allowances. The amount of concessions offered generally depends on the length of the term, the submarket and tenant credit.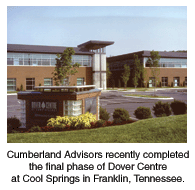 At the end of 2002, only two new projects, totaling approximately 175,000 square feet, were completed. Burton Hills IV, a 135,000-square-foot Class A building in the Green Hills submarket, was developed by Alex Palmer. The building came on line during the fourth quarter at 56 percent occupancy. The final phase of Cumberland Advisor's Dover Centre at Cool Springs, a 40,000-square-foot, Class A building in Franklin, was also completed.
The Brentwood/Cool Springs submarket remains the focal point for leasing and development activity in the Nashville office market. Steady leasing activity since the first quarter has brought the overall vacancy rate down from 20.2 to 17.3 percent. Similarly, the total amount of sublease space has also fallen from the high-water mark of 372,000 square feet set in the first quarter to the current level of 279,000 square feet. Overall third quarter net absorption for the Brentwood/Cool Springs submarket was 94,000 square feet.
The Class A market in Brentwood/Cool Springs continues to outperform its counterparts in other submarkets, as occupancy has increased by 126,000 square feet over the last 6 months. This is a positive sign for one of the city's strongest submarkets. After adding more than 1 million square feet of new product in 2001, which increased the vacancy rate to 20.2 percent at the beginning of the year, steady leasing activity has brought it down to 17.3 percent.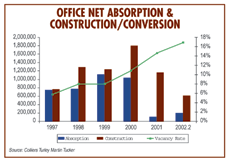 Despite two straight quarters of occupancy growth, the office market remains soft and should continue to show signs of pressure from the current recession. The overall vacancy rate of 15.8 percent for the Nashville market closely mirrors that of the national office vacancy rate, which stood at 15.7 percent at mid-year. Sublease space for the entire market totals 853,000 square feet, or 20 percent of all available space, and will continue to be problematic. Fortunately, a slowdown in construction will help somewhat, and an always active and entrepreneurial healthcare sector should continue to be a major contributor to occupancy growth in the near future.
Leasing activity is expected to stay slow but tenant interest should remain strong as users consider taking advantage of attractive lease rates currently being offered by landlords. The market presently lacks sufficient demand to warrant any new developments in the near future.

Industrial
After displaying strong growth in 2001 and the first quarter of 2002, the Nashville industrial market has begun to feel the effects of the sluggish national economy. Vacancy rates continued their upward trend in the third quarter as the local market experienced an overall lack of demand. Growing inventories of available and vacant space have only compounded the current situation, making for a very competitive leasing environment. Sales activity, on the other hand, has been strong as of late with users seeking to take advantage of low interest rates. Nashville also continued to see a great deal of investment activity and interest on behalf of private and institutional investors during the third quarter as well. The area's diverse economy, strong tenant base and locational advantage will continue to earn the attention of investors from across the country, as more and more investment money looks for purchase opportunities outside of the top tier markets.
Conditions in the mid-state still reflect considerable market uncertainty as evidenced by numerous local indicators. Downsizing and plant closings have been largely to blame for the market's declining occupancy levels, which experienced nearly 1 million square feet of negative net absorption in the third quarter. After posting a modest 125,000 square feet of occupancy growth in the first quarter of the year, overall occupancy decreased by nearly 2.3 million square feet over the second and third quarters. Consequently, the overall vacancy rate rose from 5.2 to 6.7 percent over the same period of time. Meanwhile, construction completions are off from 2001's numbers, which is actually good news for the local market.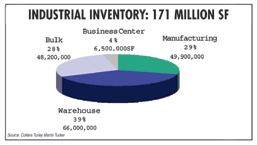 Third quarter completions totaled approximately 542,000 square feet, which represents an 85 percent drop from construction totals in the third quarter of 2001. With supply continuing to far outweigh demand, speculative construction starts should remain on hold until more favorable market conditions arise. The only building to come on line in the third quarter was Genesco's 325,000-square-foot build-to-suit distribution center off Highway 109 in the East Market. The fourth quarter saw the majority of the remaining 2.2 million square feet delivered. Fortunately, most of that space was pre-leased, build-to-suit activity. These completions should boost Nashville's total industrial inventory to over 173 million square feet.
The East Market area remains the hot spot in the local market as well as the focal point for new construction. As mentioned earlier, the new 325,000-square-foot Genesco building was completed in the third quarter. Genesco was part of a group of companies that have decided to relocate their distribution operations to the emerging East Market. Bridgestone/ Firestone later followed suit by breaking ground on a new 750,000-square-foot distribution center with expansion up to 1 million square feet. Panattoni Development was awarded the development of this project. Since then, ProLogis has kicked off construction on a 301,000-square-foot build-to-suit for Falken Tire on one of the last sites inside Eastgate Business Park. Falken currently occupies 250,000 square feet in Space Park South, a large industrial park owned by ProLogis.
Hope that the current recession would be shallow and short-lived has waned over the last couple of months, as economic recovery has lost some of its momentum. What type of bearing this will have on the local industrial market remains to be seen. Local market indicators tend to reveal a continued lack of demand for industrial product, especially within the historically strong bulk market. Speculative construction will be kept to a minimum to allow for absorption of excess supply. Demand-driven construction will, however, continue through the remainder of the year. Rental rates should continue to trend downward given the amount of available and vacant space on the market. There appears to be a number of companies planning for growth and expansion once they can see past the current economic outlook.

Investment
Investment activity and interest picked up in the Nashville area during the third quarter of 2002. A number of high-profile properties changed hands during 2002 in what was a busy year for real estate investors.
Notable industrial investment deals include New York-based American Real Estate Holdings' purchase of the 520,000-square-foot Mid-South Logistec V for slightly over $18 million, or roughly $34.80 per square foot, and Pinchal & Company's purchase of Northfork Industrial Park, which comprises three bulk buildings totaling 301,500 square feet, for $9.5 million or $31.51 per square foot. Significant office investment sales include Eakin Partners' purchase of Burton Hills I & II, which total 230,000 square feet, for close to $25 million, or $108 per square foot, and Vanderbilt University's purchase of the 106,000-square-foot Crystal Terrace building for $12.4 million.

Retail
While the office and industrial markets across the country have seen vacancies rise throughout the current recession, retail properties have not been as hard hit. Despite a less than favorable economic setting, activity in the Nashville retail market remained relatively strong through 2002. Lower interest rates and zero financing for automobiles has helped maintain consumer spending, while strong population growth in the suburban areas around Nashville has led to continued activity on the part of large retailers such as Kohl's and Lowe's. Rutherford and Williamson counties, which have experienced population growth exceeding 50 percent over the last decade, have been the recipients of much of the new construction. Over the last 7 years, nearly 10 million square feet of retail space has been developed in the Cool Springs area. This submarket should continue to receive the most attention from national retailers.
Albertsons departure from the local market has opened the door for other grocery operations looking to establish a presence in Nashville. Wal-Mart will open the first of its new neighborhood grocery concept in the Nipper's Corner area in a space previously occupied by Albertsons. The retail giant is also close to starting two additional projects in the Nashville area in the coming months. The demise of Albertsons has marked the entry of Publix into Middle Tennessee; Publix plans to open more than 30 stores in the mid-state area. The supermarket operator has already opened new stores in Hermitage and Franklin.
Overall, the outlook for retail space in Nashville remains bright. With national retail operations continuing to increase their presence in the Nashville area, the retail market should carry over much of that momentum into 2003. The ongoing recession will perpetuate the "discount" mentality that has pervaded the collective conscience of consumers as of late and keep buyers more cost-conscious than in years past.
Ben Blakeley is director of research with Colliers Turley Martin Tucker.


©2003 France Publications, Inc. Duplication or reproduction of this article not permitted without authorization from France Publications, Inc. For information on reprints of this article contact Barbara Sherer at (630) 554-6054.