CITY HIGHLIGHT, JANUARY 2006
NASHVILLE CITY HIGHLIGHTS
Scott Tyrone, R. David McDowell, Chris Grear, David P. McGahren
Multifamily Market
Nashville's multifamily market rebounded strongly last year, with occupancy improving nearly 2 points during the first 3 quarters. While rents remained relatively flat, rental concessions are starting to subside.
These improving market conditions are spawning development interests but zoning of available land in desirable areas limits options. Faced with the increasing costs of construction and significant fees in some municipalities, developers need the right location to justify necessary rents while avoiding direct competition with single-family homes. Further pressure comes from neighborhood opposition. Consequently, land available for multifamily is becoming a by-product of larger, mixed-use developments.
The downtown and midtown areas, though, are seeing significant activity. Such development comes with a caveat: all but one of the recent developments in these areas has either commenced as or has been changed to for-sale product midway through construction. Nashville-based Bristol Development, Houston-based Bomasada Group and Atlanta-based Novare Group are developing the larger of the for-sale projects in the area. The M2H Group and the Mathews Company, both based in Nashville, are restoring the historic 170-unit Stahlman Building, which is the only rental project underway downtown. The construction of a new AAA baseball stadium downtown should spur more multifamily development, both rental and for-sale product, downtown.
Developers have found favorable sites in Murfreesboro, which is 30 miles southeast of Nashville. The community is in Rutherford County, one of Tennessee's fastest growing counties. It's also home to Middle Tennessee State University, one of the state's largest – and still growing – universities. Murfreesboro supports growth and city officials welcome developers. In all, Murfreesboro has 1,835 units either under construction or planned of the total 4,450 under development in the Nashville metropolitan statistical area.
The Nashville area attracted Cleveland-based Gross Builders, which has made a big splash in the multifamily pool. The company has purchased four sites for development, including two in Murfreesboro, one in Hendersonville and one in Spring Hill.
St. Louis-based MLP has been active as well, with the recent completion of the 350-unit Canyon Ridge in Hermitage and the start of its 250-unit development in Mt. Juliet's Providence development. Nashville also has attracted Baton Rouge, Louisiana-based Peek-Howe, which is building Hickory Point, a 298-unit development in the southeast submarket.
Current developments fall into four categories: conventional Class A, student, for-sale and subsidized. Conventional developers are targeting high-end renters to justify the costs of new construction. Murfreesboro is the center of student housing since it is home to Middle Tennessee State University. And the midtown and downtown areas are offering high-end product for sale.
Subsidized housing revolves around bonds, since Nashville does not score very well with traditional tax credits. Of the 4,450 units under construction or planned, 700 are financed mostly with government bonds.
There is a wide variance of rental rates and occupancy throughout the area. The West End/Downtown submarket commands the highest rents, which average $950 or $1.05 per square foot. This submarket also has the area's highest occupancy — 97.3 percent. The next strongest market is Franklin where rents average $885 or 87 cents per square foot.
Conversely, North Nashville has the lowest occupancy — 88% — and rental rates — $545 or 58 cents per square foot.
Moving forward, tight supply and employment growth favor development in certain submarkets.
In the southern corridor, Franklin serves a major office center. Many office support staff, janitorial help and other labor that work and provide services often cannot afford homes. Plus, Nissan North America recently announced it would relocate its headquarters from suburban Los Angeles to Nashville. Some 1,300 jobs will be based at the headquarters, with many of those employees needing rental units. Companies that support Nissan with parts and other services will follow, bringing more workers. This southern corridor will need multifamily sooner rather than later. Fortunately, there is available land but it needs to be rezoned to accommodate the anticipated needs of these workers.
Hendersonville also could see new development. The submarket has exploded with single-family and retail development, but the former administration opposed multifamily development. Some multifamily development should occur as the new, large retail developments will include multifamily as part of mixed-use to accommodate this need.
— Scott Tyrone specializes in the investment sales and acquisition of multifamily properties in Colliers Turley Martin Tucker's regional office in Nashville.
Retail Market
The economic engine driving the Nashville metropolitan statistical area (MSA) retail market in recent years has been a function of favorable marketplace fundamentals, such as residential development and new home sales; job growth and corporate relocations; and a diversified and balanced economy and positive working relationships between public and private sectors.
Single-family building permits increased 12.4 percent from 2003 to 2004, with year-to-date September 2005 reflecting a 7.1 percent increase during the same period 2004 as reported by the U.S. Census Bureau. Middle Tennessee residential home sales increased 13.8 percent from 2003 to 2004, with year-to-date September 2005 reflecting a 5.2 percent increase during the same period 2004.
The Nashville MSA unemployment rate declined from 4.5 percent to 4.3 percent from 2003 to 2004, with the year-to-date September 2005 falling to 3.9 percent as reported by the U.S. Department of Labor. Total employment increased 1.1 percent from 2003 to 2004, with year-to-date September 2005 increasing 3 percent. Nissan North America recently announced it will relocate its corporate headquarters from Los Angeles to the Cool Springs submarket during the fourth quarter 2007. This move will bring more than 1,300 high-paying jobs to the local economy and provide $500 million a year in economic impact to the state's economy. This establishes a market validation value for other Fortune 1000 companies deciding to relocate or expand their businesses and improves prospects for additional employment and sustainable retail growth.
Effective local government and strong business leadership, through the long-range planning process and rezoning efforts, have made the necessary infrastructure improvements to increase accessibility to large tracts of undeveloped land in the Nashville MSA. Various corridors throughout the MSA have numerous opportunities for major residential and retail developments, which should sustain long-term benefits to the retail sector.
The Nashville MSA retail market saw its already positive market conditions improve as vacancy rates declined from 5.6 percent to 4.7 percent for the period ending October 2005. This change reflects a continued demand for both Class A and second-generation space. Prevailing market rental rates for Class A space ranges from $17 to $28 per square foot, triple net; and second-generation retail space ranges from $12.50 to $ 16 per square foot, triple net. Asking rental rates for the period ending October 2005 averaged $14.78 per square foot, an increase from $13.78 per square foot during spring 2005.
Net absorption for the third quarter 2005 has been favorable with a positive absorption of 359,511 square feet (not including enclosed malls), the majority of space being leased in community centers ( 278,446 square feet), neighborhood centers ( 84,686 square feet) and free standing retail (90,133 square feet). The Hendersonville/Gallatin submarket realized the highest concentration of net absorption with 232,569 square feet, followed by Murfreesboro/Smyrna/ LaVergne with 99,406 square feet and Donelson/Hermitage with 69,110 square feet. Active retailers include Ross Dress for Less, Home Goods, Petco, Staples, A.J. Wright, Publix, Rugged Warehouse, Office Max, TJ Maxx, Office Depot, Bed Bath & Beyond, Linens 'n Things, Marshalls, Old Navy, Best Buy, Panera Bread, Jason's Deli, McAlister's Deli and a host of nationally recognized franchised "shop space" retailers.
As for a competitive topic in the marketplace, Publix continues to develop their presence in the Nashville MSA in spite of Kroger's market share. With the seven existing stores acquired from Albertson's, new Publix stores announced, completed and/or under construction to date include: Baker Storey McDonald's The Marketplace at Maryland Farms in Brentwood and Nipper's Corner in Southeast Nashville; Barclay Group's Publix at Harpeth Village in Bellevue, McKay's Mills Shopping Center in Franklin and Market at Victory Village in Murfreesboro; Parker-Gras' Parkway Town Centre in Smyrna and Spring Hill Village in Spring Hill; MC Properties' Caldwell Square Shopping Center in Goodlettsville; GBT Realty Corporation's Concord Corners in East Brentwood; and Watkins' Greensboro Village in Gallatin.
Kroger has remained competitive by upgrading or remodeling a majority of their existing stores. The company also recently developed new stores at Parkway Commons in Franklin and Willow Brook Shopping Center in Antioch. Kroger and their preferred developers are currently building three more stores at Mill Creek Towne Center in South Nashville, Rutherford Crossing in Murfreesboro and Providence Marketplace in Mt. Juliet.
Wal-Mart has recently announced five new stores in the marketplace through relocation or new construction. Nashville-based RFM Development Corporation currently is developing a 173,000-square-foot location at Harding Mall and a 194,000-square-foot store Nolensville Road South. Other locations under development include a 210,000-square-foot store at the Bellevue Mall peripheral property, a 203,818-square-foot store Nashville Commons Skyline (pending) and a 203,091-square-foot store at The Shops of Indian Lake Market.
The retail market continues to focus on the more suburban areas for new retail development. Developers have strategically built-out Nashville-Davidson County in recent years, leaving few development possibilities that are not restricted by natural barriers or have unsuitable indigenous soil conditions and sub-surface issues. These obstacles have forced the search for retail land to the suburban areas. Brentwood, Tennessee-based GBT Realty Corporation is one of the more dominant developers responding to the local market, with a local portfolio of eight centers totaling in excess of 1.37 million square feet.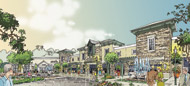 Nashville West in Bellevue.

The Nashville MSA is poised for larger retail projects that use the lifestyle and mixed-used models. These projects will consist of lifestyle tenants, some of which already have a presence in the marketplace, and tenants that customarily take occupancy in regional centers. Some of the projects slated to open in 2006 and 2007 period include Carolina Holding/Crosland's 818,680-square-foot Providence Marketplace in Mt. Juliet, Cousins Properties/Faison's 801,800-square-foot The Avenue – Murfreesboro in Murfreesboro, Newton Oldacre McDonald's 474,484-square-foot Nashville West in Bellevue, Continental Real Estate Company's 437,200-square-foot The Streets at Indian Lake, Southern Land Company's 400,000-square-foot McEwen Town Center and H.G. Hill Realty's 200,000-square-foot Hill Center – Green Hills.

The retail trends affecting the Nashville MSA remain focused on the peripheral boundaries of Nashville-Davidson County and the contiguous counties of Rutherford (Murfreesboro/ Smyrna), Sumner (Hendersonville/Gallatin), Williamson (Franklin), Maury (Columbia/Spring Hill) and Wilson (Mt. Juliet/Lebanon). The benefits to these areas, from ongoing infrastructure improvements and more accessible land for development, position these counties for sustainable growth in the future.

The effects will allow trade areas to minimize the intermittent migration of residents, relieve the burdensome traffic flows caused by frequent commutes and permit city and county governments to retain retail sales revenues. Communities will then grow to be more self-sufficient.

— R. David McDowell is a senior associate, retail group, with Nashville, Tennessee-based Grubb & Ellis | Centennial.

Industrial Market

Nashville shifted into high gear in early November when Nissan North America chose the city to relocate its current North American headquarters to the area from suburban Los Angeles.

As part of the incentive package to attract Nissan, the city of Franklin's industrial development board will issue bonds to purchase a 50-acre site in the Cool Springs submarket from Crescent Resources and then lease it back to the automaker for its planned $70 million headquarters. A developer has yet to be named for the project, with construction scheduled to begin next year. When complete in 2008, the expected 300,000 to 400,000 square-foot facility will bring some 1,300 jobs to the Nashville area.

Nissan not only will draw additional companies that have contractual agreements with the automaker but it elevates Nashville's overall image and desirability as a great place to do business.

While Nissan's impending move greatly favors the office and housing market, it also bodes well for Nashville's strong industrial sector, which entered 2005 with a full head of steam. Strong activity throughout the previous year spilled over into the new year, with cranes dotting the skyline as developers began to see the sector's upside.

The sector's recovery began in earnest in the fourth quarter 2003 and took off in 2004, with bulk facilities eventually in short supply. Consequently, developers began filling the void for big box users with several new distribution centers.

Last year, Aldi Food Stores completed a 350,000-square-foot distribution center in Prime Property's new Nashville East Logistic Center located along SR-840. Prime also sold another 65 acres to First Industrial for the Rockdale Distribution Center. First Industrial's first building in the park was a speculative 300,000-square-foot facility, expandable to 500,000 square feet, which is now leased to APL Logistics. Last summer, Panattoni Development Company opened its third building at Commerce Farms, a 456,000-square-foot, 32' clear, cross-docked property. And Duke Realty recently completed the purchase of a 240-acre tract off SR-840 thereby positioning the company for a major presence in Nashville's big box market.

Panattoni, also taking advantage of the Southeast submarket's location, completed the 240,000-square-foot Building D at SouthPark Distribution Center and utilized newly developed infrastructure to begin work on a new 180-acre development at Elam Road. Crescent Resource's CenterPoint Development is now targeting big box tenants that began with a 300,000-square-foot, build-to-suit for Hot Topics in 2004 and the company has since started a 500,000-square-foot speculative building due for delivery early this year. Four more buildings are now planned at the development. And Duke Realty has completed a 500,000-square-foot speculative building in the North submarket, the developer's first such big box project in the Nashville market.

Demand for big box space continued throughout last year. In the third quarter 2005, big box leases added 1.65 million square feet of positive net absorption, which dropped the vacancy rate for bulk distribution to 9.4 percent at the end of September from 11.7 at mid-year, a change of 2.3 percent. With economic conditions improving although challenged by fuel costs, the aftermath of Hurricanes Katrina and Wilma, and the Fed's measured interest rate increases, Nashville's market for bulk space remains an opportunity. The rising cost of construction materials and financing makes leasing an even more sound option than owning.

The bulk market flexed its muscle with several notable deals last year. Cinram took 470,000 square feet in the Interchange Distribution Center. WM Wright Co. subleased 339,000 square feet in the Crossings Distribution Center. Mac Pak Services leased 119,450 square feet in Interchange City #5, and Aaron Rents took 100,000 square feet in the Mason Road Distribution Center. Additionally, Richards & Richards bought and occupied 251,000 square feet on Elm Hill Pike.

And Nashville's overall industrial market improved throughout last year. In all, the industrial sector absorbed nearly 3.9 million square feet through the year's first 3 quarters. By the end of September, Nashville's industrial vacancy rate had fallen to 5.9 percent, its lowest level in 5 years.

The warehouse market, the dominant sector in Nashville, continued to pare its vacancy rate, finishing at 4.6 percent by the end of the third quarter. The manufacturing sector has shown stability as well. The sector's 2.6 percent vacancy rate has remained virtually unchanged during the past 2 years but remains subject to the whims of consumer spending patterns.

Only business centers have failed to benefit during this resurgence. Past experience shows though that such centers are the first to struggle during a downturn and the last to recover. On the positive side, the vacancy rate declined in the third quarter for the first time in more than 3 years, dropping to 14.1 percent by the end of September from a high-water mark of 15.3 percent at mid-year. This year, demand for space, especially among entrepreneurial growth companies, will provide slow but steady relief in this sector.

Moving forward, interest will remain in small to mid-size leases as companies expand. The big-box bulk distribution trend will continue with such expansion as well, and developers will continue to seize opportunities during the first 6 months of this year. And, as the cost of capital continues to rise even as construction costs moderate, we believe the cost of leasing vs. owning will favor the former.

— David P. McGahren is the managing principal and industrial division leader of Colliers Turley Martin Tucker's regional office in Nashville.

Office Market

Downtown Nashville has experienced more than $1 billion in public and private investments in the central business district (CBD) since 2000. Eakin Partners' SunTrust Plaza, the Novare Group and Giarratana Development's Viridian condominium tower and Giarratana's Signature Tower will add a combined 1,282 vertical feet to the Nashville skyline during the next few years. The lure of a vibrant live-work environment is bringing new tenants and investors into the city. Recent sales of the existing One Nashville Place, the L & C Tower (Nashville's oldest skyscraper), and the old SunTrust Building have totaled $118.55 million.

Nashville's biggest announcement for the downtown office sector came from Nissan North America, who will temporarily relocate its headquarters to 133,000 square feet of sublease space in the Bell South Plaza in the second quarter of this year. The company's 1,300 employees will call the CBD home while its new building is being constructed in the Cool Springs submarket. Nissan's presence combined with the residential expansion of 1,740 units this year and another 1,900 planned for delivery by 2008 will support the push for more retail in the CBD. Other area projects include the development at Rolling Mill Hill, a new Federal Courthouse and various riverfront redevelopment.

Just outside downtown, MetroCenter submarket saw the delivery of 211,000 square feet for TennCare, and the Tennessee Department of Labor has signed 15-year lease in a new 244,000-square-foot building starting later this year.

Overall, Nashville has the fourth lowest office vacancy rate in the nation and shows no signs of slowing down. Net absorption hit 700,000 square feet in the third quarter and passed Nashville's benchmark of 750,000 square feet by the year-end. This year should be another record breaker as the market is set to entice investment purchases and burn off sublease space as even as more inventory is delivered throughout.

The 2005 average rental rate for available office space was $16.75 per square foot, full service gross. The Nashville MSA still has 440,000 square feet of sublease space vacant, accounting for less than 2 percent of available space in the 26 million square foot inventory. Nashville rates will see some adjustment in this year, however, as some of that space expires at the same time as new inventory comes online.

Around the MSA, new projects total more than 400,000 square feet including Boyle's plans for a 175,000-square-foot building for Community Health Systems, who also recently signed a 10-year lease for 107,000 square feet at Cool Springs Commons. Crescent Resources' Corporate Center VIII and Creekside Crossing III, both more than 100,000 square feet, indicate that developers are confident that Nashville is not overbuilt and the job market is very stable for this year.

— Chris Grear is a broker/office specialist with Nashville, Tennessee-based NAI Matthews Partners.



©2006 France Publications, Inc. Duplication or reproduction of this article not permitted without authorization from France Publications, Inc. For information on reprints of this article contact Barbara Sherer at (630) 554-6054.