CITY HIGHLIGHT, JANUARY 2007
NASHVILLE CITY HIGHLIGHTS
David McGahren, Catherine Collins, Richard Fulton
Nashville Industrial Market
Nashville headed into 2006 with a full head of steam. Nissan's decision to relocate its corporate headquarters to Nashville elevated the city's stature as a prime place to do business. Nissan followed other corporations such as Dell, Caremark, Louisiana-Pacific, Asurion and Clarcor in choosing Nashville as a major center for their business operations.
This activity has heightened optimism throughout all commercial real estate sectors, including the industrial arena, with demand for space nearing record levels by the end of the third quarter of 2006. Already a major distribution hub, developers are also flocking to Nashville, with five or six newcomers searching for sites and banking on the future to compete against established players in the industrial market.
Dominant players already in place include Panattoni, Duke and First Industrial, all with product in the pipeline and more to come.
Panattoni recently broke ground on its newest 150-acre development called Elam Farms. In time, this development will provide more than 2 million square feet of Class A bulk warehouse product in the Southeast submarket.
Duke is repositioning its portfolio, having sold off most of its service center holdings so it can focus on big box industrial development. The developer recently purchased 250 acres and completed a 650,000-square-foot cross-dock facility, its first building in Park 840 in the East submarket. Duke has another 150 acres in this submarket as well for future development.
First Industrial added 190 acres for development in Rockdale Industrial Park, another large development in the East submarket. First Industrial recently completed the 300,000-square-foot Rockdale Distribution Center 2, which was fully leased to Wilson Sporting Goods, and will be expanded another 275,000 square feet for Wilson.
Such projects give Nashville added clout by offering mega-product in the 600,000- to 1 million-square-foot range, a plus in attracting and retaining regional and national distribution centers.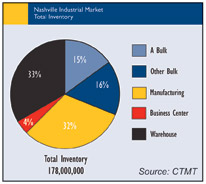 Additionally, several build-to-suit projects have been completed. In the third quarter alone, Perfect Equipment (110,000 square feet) and Pretoria Engineering (94,000 square feet) occupied their build-to-suit facilities in Murfreesboro, which is in the Southeast submarket. Two speculative buildings also were completed nearby, with 60 percent of the 68,100 square feet pre-leased. In the CBD, Ferro Corp./Powder Coatings Division finished its 19,000-square-foot build-to-suit, and in the North submarket Olhausen moved into its 200,000-square-foot build-to-suit manufacturing facility.
The East submarket continues to see its share of developments, with Duke and First Industrial quite active. Primarily driven by bulk product, the East submarket offers easy interstate access and quality product either existing or in the works for clients. Plus, the area puts distributors minutes from Nashville and Dell, which has a major computer assembly plant in this submarket.
The Southeast submarket also has its share of activity as developers begin to bring product out of the ground that they've controlled for the past 2 to 3 years. Such is the case with a 570,0000-square-foot Class A bulk building under construction in the Logistics Way Business Center.
Activity is currently brisk in the North submarket as well, with 1.1 million square feet under construction. Most of this is build-to-suit/owner-occupied product that includes: Samick Music Co. Mfg. and headquarters, 214,000 square feet in Gallatin; MGM Industries, a 107,000-square-foot expansion in Hendersonville; and Federated Stores Distribution Center, 595,000 square feet in Portland.
Many sites in Nashville face topographical challenges so developers can't simply find a site and expect it to be competitive. Availability at affordable land rates combined with reasonable costs for site work are critical in mapping out future developments.
In terms of available sites for future development, the East submarket has attracted a land rush. The Southeast will be an active corridor as well but on sites already under control by developers. The far North holds promise as a development alternative once the East and Southeast reach their saturation points.
All of this is occurring with the industrial market in a strong position. Current vacancy rate for all product stands at less than 5 percent, with the bulk market currently at less than 8 percent. Absorption during the first three quarters of 2006 was more than 5 million square feet, just slightly behind the 5.15 million record absorption in 2005, but with a strong fourth quarter underway.
Asking rental rates are nudging up but competition for tenants from existing and new developments has kept this in check. Quoted rates for new bulk product range from $3.45 to $3.55 per square foot net, with asking rates for all Class A Bulk product slightly up during the past year.
As Nashville moves forward, the industrial sector is well-positioned to propel the city's stature as a major business center. New facilities and shifts in tenant location ensure that new or existing companies will have choices to meet their needs.
— David P. McGahren is a principal and industrial division leader in Colliers Turley Martin Tucker's regional office in Nashville.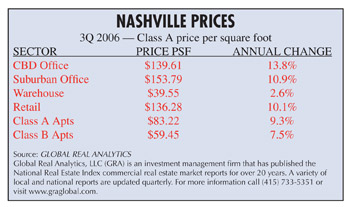 Nashville Retail Market
Nashville's retail sector keeps improving in all of the 11 counties of the MSA. Where new developments are built, housing prices increase. Where new office product is planned, retail is creeping in to supply the demand for restaurants, boutiques and especially groceries; Belle Meade will soon see the delivery of a Harris Teeter and Green Hills will have a Whole Foods, both major competitors for the established leader Kroger. Big boxes are even coming closer into the residential neighborhoods of Davidson county, with the completion of CostCo at the controversial Nashville West development by Newton Oldacre McDonald. With vacancy at an all time low of 3 percent and positive absorption reaching 650,000 square feet at the end of the third quarter, landlords are able to maintain higher rental rates and may even be able to climb slightly through the first part of this year.
Investment sales for retail show a trend of owners swapping one lucrative plot for another. Most recently, Belz Enterprises sold the 100 Oaks Shopping Center in Berry Hill. The mall, which was Nashville's first, is expected to announce development plans for the parcels adjacent to Thompson Lane. Across the street, the Carmax building sold in the third quarter to Chicago-based TSG Real Estate. The parcel, which includes more than 12 acres, sold for $380 per square foot, indicating that the Berry Hill/100 Oaks submarket is definitely back on the map.
In Green Hills, smaller boutique centers, such as the Hillsboro Plaza and Crestmoor Court, are selling for more than $410 per square foot. This submarket has been helped by the arrival of Tiffany, Louis Vuitton and other high-end retailers to the Green Hills Mall, where rates can exceed $40 per square foot. Even so, while Nashville has proven itself to be a profitable market, consumers still await the elusive Nordstom.
There are many projects in Gallatin and Hendersonville that will be announced this year. The Sumner Regional Hospital's Health and Wellness Center has broken ground on its $17 million phase one, to be followed by medical offices for phases 2 and 3 on Station Camp Road. This will boost to the already thriving retail market in the immediate area. Also in Gallatin, Dover Cliff has purchased the former SunTrust site to be developed in this year, and The Horrell Company continues to develop the remaining 10 acres of Sumner Partners land on Nashville Pike.
Major leases for the year include the 41,600-square-foot Babies R Us in Rivergate, the 43,000-square-foot Electronic Express in Cool Springs and the 132,000-square-foot Wal-Mart on Nolensville Pike.
Murfreesboro has the largest single construction site for this year, with The Avenue, an 811,000-square-foot development by Cousins Properties. If there is any bad news in the retail sector, it is that the activity in Murfreeboro has created a bit of a downturn for the neighboring submarkets, due to the retailers' focus on projects such as the Gateway and Rutherford Crossing, an 82,000-square-foot development.
— Catherine "Chuck" Collins, CCIM, NAI Nashville.
Nashville Office Market
Currently there is more than 1 million square feet of multi-tenant and single-tenant development under construction in Nashville. Companies, such as CHS (Community Health Services) and Healthways are opting to lease single-tenant buildings rather then purchasing and occupying their own buildings.
The vacancy rate in the central business district (CBD) dropped from 11.2 percent in the second quarter to 10.6 percent in the third quarter. Class A rental rates decreased by $1.01 per square foot to $18.68 per square foot while Class B rental rates remained the same at $16.58 per square foot. Vacancy in the suburban markets dropped slightly to 9.6 percent in the third quarter. Class A rental rates remained stable during the third quarter at $20.16 per square foot as did Class B rental rates at $16.54 per square foot.
SunTrust Plaza is a 338,000-square- foot office building under construction in the central business district. Currently, 45 percent of the building has been pre-leased but the tenants are not new to the CBD. SunTrust will be vacating an existing building which will cause vacancy to increase in this market. Nissan is building its headquarters in Cool Springs and will vacate 240,000 square feet in the BellSouth Tower in the CBD as well. With BellSouth being purchased by AT&T, there is a possibility the company will vacate the rest of this building and move to one of their existing buildings in Brentwood. The BellSouth Tower could be a problem for the CBD in 2008 if the full 580,000 square feet is vacant, or it could be an opportunity for a new corporate headquarters to move to Nashville.
The majority of development taking place is in the Brentwood and Cool Springs submarkets, specifically Cool Springs. Cool Springs has become known as the "headquarter miracle mile." Cool Springs lies in Williamson County, which encompasses the southern portion of the Nashville MSA, and ranks as the 15th wealthiest U.S. county by a 2005 Census Bureau survey. Williamson County is no longer just a residential community, but is striving to become a business community as companies relocate to the area.
Crescent Resources completed Corporate Centre Seven last year and currently Corporate Centre Eight is under construction. Corporate Centre Nine is possibly starting construction by the middle of this year. Duke Realty completed Creekside Crossing III last year and Aspen Grove Office Center II should be completed by the first quarter this year. Highwoods completed Cool Springs III and CHS' new building should be completed by the end of the year. Boyle Investments should complete the Healthways building, in Meridan Office Park, by mid-2007 and could break ground on another Meridian office building during the year. Other active developers in the market are Eakin Partners and Alex S. Palmer & Associates.
Cool Springs will continue to be a popular submarket. With the new McEwen interchange being added for Nissan, land in this area is attracting mixed-use developers.
— Richard Fulton is chairman with Nashville-based Grubb & Ellis|Centennial.


©2007 France Publications, Inc. Duplication or reproduction of this article not permitted without authorization from France Publications, Inc. For information on reprints of this article contact Barbara Sherer at (630) 554-6054.