COVER STORY, MAY 2006
SOUTHEAST IS RETAIL REGION
Developments continue to rise as population grows.
Daniel Beaird
With more population moving to the Southeast each year, retail is following rooftops. In growing markets like Florida, Virginia and the Carolinas, new projects are regularly announced. Most of these projects are continuing the trend of lifestyle centers. Also, retail developers are leaving the door open for possible mixed-use transitions in the future. This month, Southeast Real Estate Business takes a look at four retail projects that are developing in growing areas.
Gulf Coast Town Center
Lee County, Florida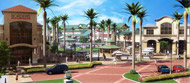 Located between Fort Myers and Naples, Florida, the 1.7 million-square-foot Gulf Coast Town Center will be completed in spring 2007.

CBL & Associates Properties of Chattanooga, Tennessee, along with The Richard E. Jacobs Group, are developing Gulf Coast Town Center, located on the Interstate 75 corridor between Fort Myers and Naples, Florida, in a 50-50 joint venture. Phase I is open and includes Babies "R" Us, Jo-Ann Fabrics & Crafts, Linens 'n Things, Petco, Staples, Super Target, Kirklands and a 16-screen Regal Cinemas. The majority of the retailers in Phase I opened before last year's holiday season. Phase II is currently being developed and has celebrated the grand opening of Bass Pro Shops, which features a 24-acre lake. Upon completion, the 200-acre, 1.7 million-square-foot Gulf Coast Town Center will feature 15 retail anchors, two Marriott hotels and approximately 120 specialty shops and restaurants.

"It is really new for our industry and ground breaking for our company," says Geoff Smith, director of community center development for CBL & Associates Properties. Deborah Gibb, director of corporate relations for CBL & Associates Properties, agrees. "It is a unique development," Gibb says. "At 1.7 million square feet, we cannot compare it to any of our other projects."

Gulf Coast Town Center broke ground early last year after The Richard E. Jacobs Group closed on the property in 2004. "The Jacobs Group did a good amount of site work on the Gulf Coast Town Center project well before we broke ground," Smith says. "We have worked with the Jacobs Group in the past and have a wonderful relationship with them." CBL and The Jacobs Group recently worked together in a joint venture for the development of Triangle Town Center in Raleigh, North Carolina.

While CBL's work is spread around the Southeast, most of the community center development division's attention is on Florida. "We have opened more than 2 million square feet during the past 5 or 6 years in Florida," Smith says. Why were CBL and The Jacobs Group attracted to the Fort Myers/Naples area? "Our partners had great vision for the Gulf Coast Town Center site," Smith says. "Located on the Interstate 75 corridor between Fort Myers and Naples, we have access to more than 500,000 people within a 30-minute drive."

Chattanooga-based EMJ Corporation is the general contractor for Phase II of Gulf Coast Town Center, by far the largest phase. DSA of Atlanta is serving as the architect for Phase II. The project will include two Marriott hotels, Courtyard by Marriott and Residence Inn by Marriott, which are under contract. At the west end of the project is a large common area called Market Plaza that will be anchored by Borders Books & Music. Market Plaza will feature restaurants, a concierge's desk, a performance stage, a large grassed area for viewing performances, a water feature with sculptures, a shaded pavilion, kiosks and an interactive beach-themed play area with marine-life sculptures and outdoor seating. At the center of Gulf Coast Town Center is a large gathering space called University Plaza for use by students of nearby Florida Gulf Coast University as well as the public. University Plaza will include a decorative fountain, park benches, shaded areas and free wi-fi connectivity.

The new Bass Pro Shops features a 24-acre lake and is the first Bass Pro Shops in southwest Florida. "Bass Pro Shops plans on taking advantage of the lake to use for demonstrations of their watercrafts and for fishing exhibitions," Smith says. Along with Bass Pro Shops, Phase II will be anchored by Belk, JCPenney, Borders, Best Buy, Costco and the two Marriott hotels. Stores will begin opening for Phase II this fall and continue opening into spring 2007. "We hope Gulf Coast Town Center will be fully leased when it opens," Smith says. "We have a great location, some great infrastructure and an incredible array of anchors."

Collection at Vanderbilt
Naples, Florida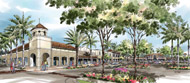 Woolbright Development's Collection at Vanderbilt will be completed in two phases as a Mediterranean revival-style retail community in Naples, Florida.

Woolbright Development of Boca Raton, Florida is building its first ground-up retail project, Collection at Vanderbilt, on the northwest corner of Vanderbilt Beach and Airport Pulling roads in Naples, Florida. Traditionally known for redeveloping existing shopping centers, Woolbright Development has entered the Naples/Fort Myers market for the first time by purchasing the 30-acre site from David Hocker & Associates for its ground-up development. Phase I of the 253,000-square-foot Collection at Vanderbilt broke ground in January and will be delivered at the end of this year. The initial phase encompasses 175,000 square feet of retail space. The whole development will include tenants such as a 19,700-square-foot Fresh Market, Starbucks, Zazou, Salad Creations, Pauli Moto's Asian Bistro, Strapazza Italian Restaurant and Oxxo Care Cleaners as well as additional boutiques and restaurants. Recently, Pei Wei Asian Diner and Zucchero Sweet Fashion signed leases to become a part of Collection at Vanderbilt.

"This has been a long awaited project," says Mike Fimiani, executive vice president of leasing and marketing for Woolbright Development. "Naples is growing tremendously and Collection at Vanderbilt is located in east Naples, in the heart of the growth." In fact, Collection at Vanderbilt is in close proximity to two Ritz-Carlton resorts and Greg Norman's Tiburon golf community. The annual household income within a 5-mile radius is almost twice the national average at $99,800. "The location has strong traffic and a great amount of disposable income," Fimiani says. "There are some great retailers in downtown Naples, but Collection at Vanderbilt will actually serve as another market for Naples' east side."

Designed by Marc Weiner of Boca Raton, Collection at Vanderbilt will be completed in two phases as a Mediterranean revival-style retail community. Woolbright Development is still finalizing its plans for Phase II, which could include office and residential space if the market calls for it. Phase II will deliver in summer 2007. Hawkins is serving as the general contractor for Collection at Vanderbilt. "This development will add a great shopping environment and the design will really lend itself to people who want to go there for lunch or dinner and also do some shopping," Fimiani says.

Woolbright Development remains focused on the Florida market. Recently, the Boca Raton-based real estate company executed a 2,300-square-foot lease with Magical Celebrations to finish off its 96,500-square-foot Kendall Corners in Kendall. "Kendall Corners is the third center we have completely leased this year," Fimiani says. Woolbright expects the Florida market to grow by approximately 10 million people during the next 20 years. As Florida's cities grow, Fimiani likes the idea of mixed-use developments, some of which Woolbright is involved in throughout the state. "Cities are going to encourage mixed-use developments, delivering residential units to main hubs and arteries within the cities to make it easier for transportation and access to projects like these," Fimiani says.

Providence MarketPlace
Mount Juliet, Tennessee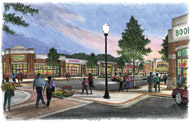 The 830,000-square-foot Providence MarketPlace in Mount Juliet, Tennessee.

Where would you find the largest open-air shopping center in Middle Tennessee? What about the largest shopping center between Nashville and Knoxville? In Mount Juliet, of course. Breaking ground in February 2005, Providence MarketPlace, a joint venture between Crosland and Carolina Holdings, is a 103-acre, 830,000-square-foot retail destination located 12 miles from downtown Nashville. Anchored by tenants such as Target, JCPenney, Belk, Kroger, TJ Maxx/Home Goods, Consolidated Theatres' Providence Cinemas, Dick's Sporting Goods, Jo-Ann Fabrics & Crafts, Best Buy, Ross Dress For Less, PetsMart, Books-A-Million and Old Navy, the retail component of the 1,000-acre Providence community has attracted some big names.

Located at the intersection of Mount Juliet Road and Interstate 40 in Mount Juliet, retailers are attracted to Providence MarketPlace because its primary trade area serves approximately 200,000 customers, an area that has been underserved in the past. "There has not been a significant grouping of stores east of Nashville," says Charles Thrift, senior leasing associate for Charlotte, N.C.-based Crosland. "Mount Juliet was untapped." Traditionally, Nashville has grown to the north and to the south. The eastern suburbs, such as Mount Juliet, have been relatively overlooked. "Providence is going to change the landscape of Wilson County," Thrift says.

CPS Land of Nashville, a long-time Crosland affiliate, helped tap into Mount Juliet long before the retail component was constructed. CPS Land conceived the Providence community master plan and is overseeing its residential development. "We have worked hand-in-hand with CPS Land to develop a uniform look throughout the project," Thrift says. "We used the same architect and landscape designer." Providence MarketPlace's design incorporates a landscaped, pedestrian-oriented core of small shops, a bookstore, the 14-screen Providence Cinemas and national-brand anchors, all surrounded by restaurants.

"Providence MarketPlace has 12 outparcels and 10 of them are under contract to restaurants," Thrift says. Panera Bread was the first restaurant to open in April. Among the anchor retailers, JCPenney was the first to open in March and it was followed by Target and Best Buy. PetsMart, Belk, TJ Maxx/Home Goods, Old Navy and Ross Dress For Less all opened in April. These stores will be followed by other grand openings across the shopping center, culminating in a grand opening celebration for the entire retail destination in late summer.

"When you take a look at the variety of tenants that the retail and entertainment center has," Thrift says. "It really can serve the customer on a daily basis. Whereas the power centers may just serve a shopper once a week, Providence MarketPlace has the power center and the grocery store as well as the movie theater and the restaurants." With its mix of national retailers, small shops and the entertainment component, Thrift compares it most to Crosland's Greenridge development in Greenville, South Carolina.

Providence MarketPlace is a joint venture with Crosland and Greenville-based Carolina Holdings. Carolina Holdings purchased the property for Providence MarketPlace from Simon Property Group and Crosland joined as a partner thereafter. It is the first time the two real estate companies have worked together on a development. Carolina Holdings contracted the architect, Pazdan-Smith Group, as well as the general contractor, Harper Construction, both based in Greenville. Carolina Holdings has experience in developing large retail projects in Tennessee as it developed Jackson Plaza in Cookeville, the largest shopping center in the Upper Cumberland region of Tennessee.

Crosland has recently expanded its presence in Tennessee as it has opened an office in Nashville, merging with local firm Armistead-Barkley. "We felt like Nashville is very comparable to our home city of Charlotte in demographics, national attraction and relocations," Thrift says. "Nashville has had some tremendous announcements in recent years and we wanted to be a part of that."

The Highlands
Bristol, Virginia

Nashville, Tennessee-based Newton Oldacre McDonald and Bristol, Virginia, developer Mack Trammell are developing The Highlands, a 300,000-square-foot retail development that will sit seven exits into the state of Virginia off Interstate 81 in Bristol in the Tri-Cites area. Why is it important to develop a center in Bristol instead of Johnson City or Kingsport, Tennessee? "Virginia has a much lower sales tax than Tennessee," says Mike McGuffin, director of shopping center development for Newton Oldacre McDonald. Virginia's state sales tax is 4 percent as compared to Tennessee's state sales tax, which is 7 percent. "That makes a big difference for the consumer when it comes to large ticket items," McGuffin says.

Newton Oldacre McDonald has definitely faced some challenges, though, in constructing The Highlands. The project has switched sites from a 140-acre tract across the street to a smaller 50-acre location due to site planning issues. However, the project is still located at Exit 7. Mack Trammell owned the land across the street and moved the project to that location. "The new project site actually has better visibility from the Interstate than the previous site did," McGuffin says. While Newton Oldacre McDonald is still under negotiations with possible tenants, McGuffin says the tenants that were lined up for the previous site have followed the development across the street. "Exit 7 is a very desirable location and the fact that the tenants were already committed to that exit along Interstate 81 made it natural," says Phil Martin, spokesman for Newton Oldacre McDonald. The Nashville development firm could not name any tenants specifically due to negotiations, but The Highlands will be anchored by a large discount department store, an electronics store, a pet supply store, a bath and linen store, a bookstore, a home furnishings store, and three value fashion retailers.

Due to the change in location, The Highlands construction date was pushed back from the fall of 2005 to August of this year. Tenants are expected to be open by July 2007. The development has seen some obstacles, but Newton Oldacre McDonald and Mack Trammell decided to stay in Bristol because the market was under served on the retail side. "We felt like there was a tremendous amount of demand for a lot of the tenants we work with," McGuffin says. "The Tri-Cities market as a whole has experienced good, steady growth, and shoppers in that area have had to travel to Johnson City and Kingsport in the past. They really haven't had a good shopping destination in Bristol."

The demographics for The Highlands report 112,000 people within a 10-mile radius and a trade area of 300,000 people. "The location really isn't far from four states: Virginia, Tennessee, North Carolina and West Virginia," Martin says.

Birmingham, Alabama-based HKW Associates is the architect for The Highlands and the general contractor has not yet been named. McGuffin and Martin compare The Highlands to Newton Oldacre McDonald's Nashville West project in Nashville and its Tigertown in Auburn, Alabama. HKW Associates is also the architect of record for the Nashville West project, a 600,000-square-foot retail center, which sits on 67 acres. Meanwhile, Tigertown has already opened and it has the same type of tenants that The Highlands will feature.

As Newton Oldacre McDonald begins construction on The Highlands in August, McGuffin is confident that the retail, while slow to start, will be a success. "We expect The Highlands to be 90 to 100 percent leased by the time we start construction," McGuffin says. "Bristol, and especially the area around Exit 7, has experienced a lot of commercial growth during the past 5 years, and we expect The Highlands to help continue that pattern."




©2006 France Publications, Inc. Duplication or reproduction of this article not permitted without authorization from France Publications, Inc. For information on reprints of this article contact Barbara Sherer at (630) 554-6054.