SOUTHEAST SNAPSHOT, NOVEMBER 2004

Whitfield Hamilton, SIOR
Managing Principal
Colliers Turley Martin Tucker
Nashville Industrial Market
Nashville, Tennessee, is still seeing new industrial development resulting from the significant recent absorption of Class A space. Such absorption has limited the availability of quality distribution space, so developers are moving forward to fill the gap.
The East submarket (Wilson County) remains a prime location for development. This area offers affordable and available land.
New developments include a Class A, 456,000-square-foot facility at Commerce Farms on the Interstate 40 East corridor.
The range for industrial rental rates in the Nashville area is $2.90 to $3.25 per square foot, depending on class of building.
David McGahren, SIOR
Industrial Division Leader
Colliers Turley Martin Tucker

Technology operations with regional and national influence have followed the success of the automotive industry and recognize Nashville's central location, sound transportation system and solid labor pool.

Several developers are actively pursuing land sites in order to get back in the "spec game," but Nashville's topography creates unique challenges for large, zoned, planned park developments. After 2 years of flat demand, Nashville is moving forward as leasing activity increases and absorption and rental rates stabilize.

— Whitfield Hamilton, managing principal, and David McGahren, industrial division leader, Colliers Turley Martin Tucker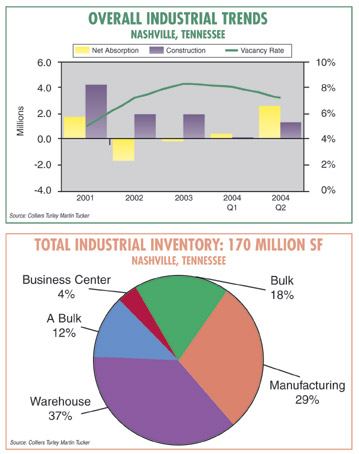 ©2004 France Publications, Inc. Duplication or reproduction of this article not permitted without authorization from France Publications, Inc. For information on reprints of this article contact Barbara Sherer at (630) 554-6054.